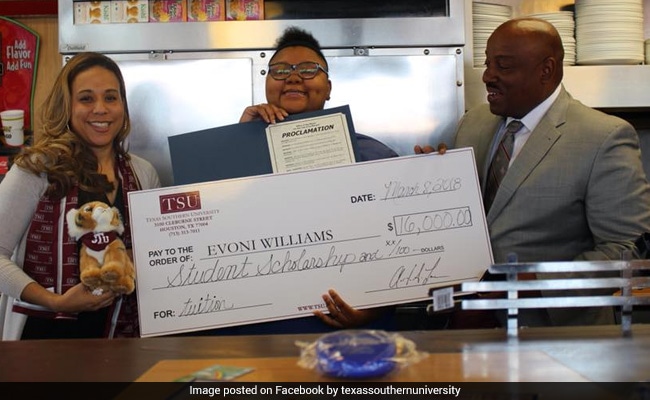 A young restaurant worker in Texas who spent the past year saving up for college is now one step closer to her dream – all thanks to a small act of kindness she performed. Evoni Williams, 18, went viral earlier this month for helping an elderly customer at the Waffle House Texas eat his food. A picture of Evoni, an employee of the Waffle House, cutting up food for a customer who was unable to do so himself, was clicked by another customer and shared on Facebook. The picture went viral with thousands of shares and even earned Evoni a scholarship to the Texas Southern University.
The incident took place on March 3 at La Marque in Texas, USA, when Adrian Charpentier came into the restaurant. He had recently undergone surgery, which made it difficult for him to cut his food, reports the Daily Mail. Evoni cut up his food for him, and her small act of kindness was captured on camera:
I don't know her name but I heard this elderly man tell her his hands don't work too good. He was also on oxygen and struggling to breathe. 
😔 Without hesitation, she took his plate and began cutting up his ham. This may seem small but to him, I'm sure it was huge. I'm thankful to have seen this act of kindness and caring at the start of my day while everything in this world seems so negative. If we could all be like this waitress & take time to offer a helping hand….
🤝 #wafflehouse#kindness #givingback #offerlove #bekind #goodnews 
As the post gained attention, praise started pouring in for the teenager. "She's an angel," wrote one person. "That was very kind and sweet," said another.
It eventually caught the eye of Texas Southern University, and they decided to present Evoni with a $16,000 scholarship. "Her act of kindness went viral on social media, and today Texas Southern University returned that act of kindness by surprising Evoni Williams with a scholarship," they said.
Not only this, she was also honoured by the mayor of La Marque, Bobby Hocking.
It just came from the heart," Evoni said to ABC 7 about her now-famous act.
Source….www.ndtv.com
Natarajan